March 2014
I want to start this month by thanking each of you that have made a donation to help support the site. Natasha and I are grateful and humbled. Every donation - and I genuinely mean every donation, no matter how large or small - makes us realise that our efforts are genuinely appreciated. The fact that you're under no obligation to contribute makes it even more rewarding when you do.
Thank You!
A number of the donations have been very generous and this month we have started to list our patrons (those that have donated $25 or more) - additional thanks to you guys.
Not only are we back from the Abyss, we're back with a bang as I'm delighted to announce that we have not one, but two, new sponsors - ACIES Edizioni and Europa Simulazioni
By pure coincidence these are both Italian publishers and both have games  covering the Italian Wars of the Renaissance (as well as other eras) - here's your chance to act like one of the Borgias! Many of the games from these publishers are presented in a folio or ziplock version and so postage to the USA should be affordable - and rules are in English.
We've continued to knock off some of the rough edges we had as a result of rebuilding the site following the disaster at the start of the year. And we've even fixed some of the faults with the earlier incarnation. For example, the ability to set up an account is now back and so I'd encourage anyone that hasn't done so already to use the 'Register' featureat the top of the screen to do so - and remember to include a brief gaming bio so we know you're real.
And, of course, it is time for me to start plugging Toulon again. This will be the first game designed by LYG and will be published by Legion Wargames. At the time of writing we're just 67 pre-orders short of our goal. The game is also featured on BGG.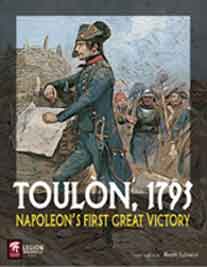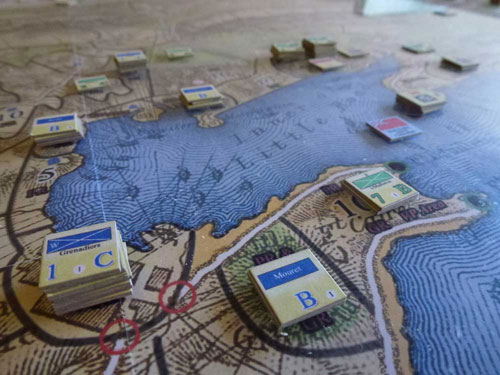 The image above is of early playtest components.
The last bit of news is that I'll be at Consimworld Expo again this year with Toulon available to anyone that fancies joining in a game. Interest has already been expressed in LYG polo-shirts so I'll be having more made and will bring them over (saving on shipping). If you are interested drop me a line and we can discuss colour and sizing. They'll cost £15 ($25).
Anyone not attending the Expo that would like a shirt can also purchase them with shipping at cost.
I need to have all orders no later than May 1st.
My thanks as always to our visitors, sponsors, contributors and now donors too.
Limey