November 2015
Special Black Friday/Cyber Monday Update:
I did a check with all of LYGs sponsors to see who had sales running this weekend. Here's what I found:
Victory Point Games
Cyber-Monday sale, with 20% off the entire catalogue of games on Monday, November 30th ONLY (12:01 am to 11:59 pm PST). Customers can receive up to 40% off with their current volume discounts, depending on the size of the order. Visit them at http://www.victorypointgames.com/
Against the Odds
Grab a FREE copy of No Safe Harbor with ANY purchase, from now until Christmas. No promotion codes to enter, just order through the ATO website to get yours.  
http://www.atomagazine.com/freegame.cfm
Paul Koenig Games
All PKG games are 10% off starting Friday and lasting through December 31. Vistit http://www.paulkoeniggames.com
Operational Studies Group
Sale Now On. will last through Sunday 29 Nov 15. Buy one game at the regular 10% discount - add a second game for $20. visit: http://www.napoleongames.com/movingsale.html
Vento Nuovo Games
The Sale Starts at 12:01 Friday, Nov 27. (That is about 6pm on the 26th for US Eastern Time). And ends at 12:01, Tuesday, December 1 (that is about 6pm on Nov 30 for US Eastern.) 
Buy ANY "Deluxe/Icons" sticker sheet for ANY of our games for just 1 Euro, plus shipping. (You can buy more than one, or one for all our games—whatever you want. Just 1 Euro each.) 
Buy ANY of our "card sets" for Blocks in the East, Blocks in the West, Blocks in Africa, or the "Early/Mid/Late war sets (3 different sets), for the combined "Blocks in Europe" game, for just 1 Euro each. 
Now the big sale items. 
Buy Blocks in the West for 25% off! 59.99 euros instead of 79.99! (Limited to 100 games) 
Buy Blocks in Africa for 25% off too! 59.99 euros instead of 79.99! (Limited to 100 games) 
Or, Buy the Blocks in Europe BUNDLE (combining BitW, BitE, and BiA, plus the six card decks) for 199.99 euros (save over 100 euros! Plus Free Shipping!) (Limited to 42 bundles). 
And finally, for the folks who just found out about us. 
It's the I WANT IT ALL SUPER BUNDLE. 
All FIVE of our games. All the regular accessories- deluxe icons, card sets, mounted maps, large maps, and the Chrome set. GET IT ALL for 500 Euros (limit 6 Bundles) ** 
This is a value of over 720 euros, and includes FREE SHIPPING. 
All regular shipping rates apply, except Blocks in Europe Bundle and I WANT IT ALL Super Bundle ship for free!
http://www.ventonuovo.net/black_friday_12.html
Revolution Games
Counter-Revolution Sale Begins - Ends 11/30!
http://www.revolutiongames.us/
Columbia Games
November Free / Flat Rate Shipping sale
Free Shipping in the USA.  
Low flat rates to Canada ($5) and international ($10).
http://www.columbiagames.com/
******************************************************
A great month for new downloads; not only are there many, we also have all three platforms covered (and lots for my personal favourite - Cyberboard). Hopefully you'll find somenting here you've been hoping for. My thanks to all of this month's contributors but Peter Bennett and Mal Atherton (welcome back Mal) have done me especially proud.
LYG's second design 'Waning Crescent, Shattered Cross' (WCSC) added around amother 20 pre-orders in October, taking us close to the half-way mark of the 250 pre-orders needed in under two-months. A massive than-you for your support.
Whilst I'm thanking you for your support, I should also thank those of you that have clicked the new right-panel adverts; I've already received feedback that they have generated sales which is great news for me and for the advertisers.
Talking of advertisers, It was an approach by Strategiae gave me the idea of running ads. Their Wars Across the World system is presented as both an App and as a boardgame. At the time of writing it has just achieved 50% of its funding and has just over a month to run - good luck guys!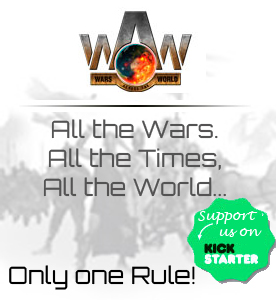 If you're interested in taking out an Ad, click the 'Advertise Here' image in the ad-column to the right.
My thanks as always to our sponsors, advertisers, contributors and visitors.
See you all again in December.
Limey.
New additions and updates
| | Title | Contributor | Publisher |
| --- | --- | --- | --- |
| | Across Suez | Mal Atherton | Simulations Publications, Inc. |
| | Balance of Powers | Dave Jones | Compass Games |
| | Blenheim | Mal Atherton | World Wide Wargames |
| | Fire When Ready | Mal Atherton | Metagaming Concepts |
| | Four Battles in North Africa - Cauldron | Mal Atherton | Simulations Publications, Inc. |
| | Four Battles in North Africa - Crusader | Mal Atherton | Simulations Publications, Inc. |
| | Four Battles in North Africa - Kasserine | Mal Atherton | Simulations Publications, Inc. |
| | Four Battles in North Africa - Supercharge | Mal Atherton | Simulations Publications, Inc. |
| | La Bataille de Vauchamps | Dave Jones | Against the Odds |
| | Le Retour de l'Empereur | Mike Westley | Pratzen Editions |
| | Quatre Batailles en Espagne | Peter Bennett | Legion Wargames, Pratzen Editions |
| | Quatre Batailles en Espagne - All 4 Battles | Peter Bennett | Legion Wargames, Pratzen Editions |
| | Quatre Batailles en Espagne - Ocana | Peter Bennett | Legion Wargames, Pratzen Editions |
| | Quatre Batailles en Espagne - Salamanque | Peter Bennett | Legion Wargames, Pratzen Editions |
| | Quatre Batailles en Espagne - Sorauren | Peter Bennett | Legion Wargames, Pratzen Editions |
| | Quatre Batailles en Espagne - Vitoria | Peter Bennett | Legion Wargames, Pratzen Editions |
| | Remember the Maine | Mal Atherton | TSR |
| | Sicily: The Race for Messina | Jim Priestaf | Simulations Publications, Inc. |
| | Sicily: The Race for Messina | Mal Atherton | Simulations Publications, Inc. |
| | Siege of Jerusalem | Karoly Szigetvari, Andy Loakes | Avalon Hill |
| | The US Civil War | Dave Jones | GMT Games |