July 2014
Well, June was fun. A week in Tempe for CSW Expo, meeting old friends and making new. Got to play COA's Battles from the Age of Reason series and Toulon 1793 got its last pre-publication public playtest (expect to see it published later this year). This was then followed by the wedding of Natasha (my daughter and your webmaster).
We're now into July and 199 years after Napoleon was exiled to St Helena, you can see evidence of his continued impact through the very Napoleonic theme of this month's featured games. We have the first two expansions from GMT's acclaimed 'Command & Colors: Napoleonics' series, my own Toulon 1793 (note the new cover design) and the current issue of War Diary magazine which this month features articles on the 1812 campain and godd old Toulon - almost bookends to the great man's career.
Anyone who has submitted one or more CB, Vassal or ZT files to LYG will get a 5% discount on any game(s) ordered.
All Sponsors of  LYG (including any that become sponsor to take advantage of this offer will get a 5% discount on any game(s) ordered.  
These discounts ARE cumulative  
  
Postage will be at cost.  
  
Here's the list (all complete unless otherwise stated):  
  
Aspern Essling Box and content As New/Unpunched £20 
 
Austerlitz Box slight shelfwear and content Excellent £20 
 
Austerlitz Box slight crush/In Shrink  £20 
 
Marengo Box and content As New/Unpunched £20 
 
Guderian's Blitzkrieg Box slight shelfwear/content Excellent £20 
 
Guderian's Blitzkrieg Box some shelfwear/map and counter laminated, no reason to think incomplete - but not checked £10 
 
Bloody Ridge As New/In Shrink 20
Matanikau As New/In Shrink £20 
 
Screaming Eagles As New/In Shrink £25 
Stalingrad Pocket II Box slight shelfwear/ content As New/Unpunched £25 
 
Solitaire ASL 2nd Edition (in first ed box - was sold as ziplock) As New £75 
 
This Hallowed Ground Box has slight crush to base (top As New)/ content As New/Unpunched £150 
 
DAK II As New/In Shrink  £170 
 
All games will be well packaged. 
 
Paypal or cheques drawable on UK banks. Will normally post within 24 hours of payment clearing. 
Use the 'Contact LYG' at the base of the page if interested.
Thanks for looking.
Thanks to each of you that have made a donation to help support the site. Natasha and I are grateful and humbled. Every donation - and I genuinely mean every donation, no matter how large or small - makes us realise that our efforts are genuinely appreciated. The fact that you're under no obligation to contribute makes it even more rewarding when you do.
Thank You!
I need just 27 more pre-orders Toulon. This will be the first game designed by LYG and will be published by Legion Wargames. The game is also featured on BGG and, as of this month, there is a review of the game available.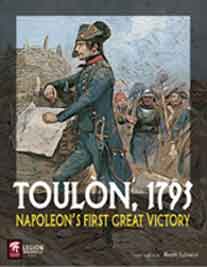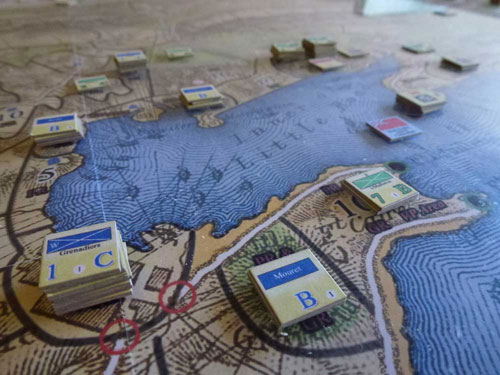 The image above is of early playtest components.
My thanks as always to our visitors, sponsors, contributors and now donors too.
Limey