October 2015
Lots of news this month - all of it good.
First off, we've sorted the technical issue that was preventing us uploading a number of large files so you'll see that we have finally been able to provide access to:
A Thunder upon the Land
Balance of Power
La Bataille de Coruna
Moscowa
Rebel Sabers
Washington's Crossing
Secondly LYG's second design 'Waning Crescent, Shattered Cross' (WCSC) went up for pre-order with Legion Wargames just two weeks ago and has already almost reached the first 100 of the 250 pre-orders needed.
A little about the game: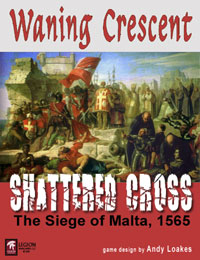 Following the fall of Rhodes, the Knights of St John rewarded Suleiman's magnanimity by harassing Turkish shipping and commerce from their new home in Malta. In 1565, Suleiman sent his generals to finish the task he had left incomplete more than 40 years previously. The Turks laid siege with a force that reached 60,000 in number. They would exterminate the 500 Knights of St John defending the island and wipe the Order from the face of the earth - or so they thought. If ever there was an 'against the odds' situation then this was surely it.
Waning Crescent, Shattered Cross (WCSC) is a two player game recreating the incredible events that occurred on this small Mediterranean island and changed the course of European history. Using cards to drive events, WCSC is a relatively quick playing, low complexity simulation. Players must decide whether to try to build their hands to a size that might deliver a decisive blow or to use their cards to gradually wear down their opponent. And the play of cards complements the management of resource including supply, artillery, men and even honour. Acts of treachery, torture and atrocities will contrast starkly with acts of heroism, rousing speeches and even the celebration of Saints Days in the midst of horror and terror.
What else? Well the observant amongst you may have noticed we've started to carry adverts as well as our usual featured games. The featured games facility is only open to our sponsors and can only be for games for which we host a file. The adverts, on the other hand, can be taken out by anyone for (within reason) anything. I hope you'll agree that the current batch are directing you to some great offers and information.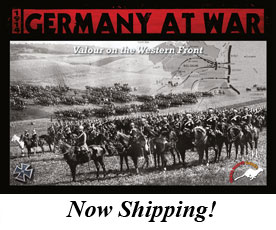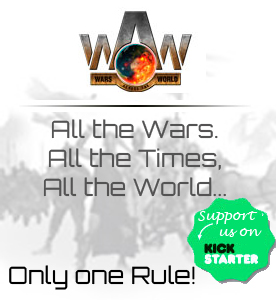 If you're interested in taking out an Ad, click the 'Advertise Here' image in the ad-column to the right.
I think that is enough for this month.
My thanks as always to our sponsors, advertisers, contributors and visitors.
Limey.
New additions and updates