December 2014
********************************SPECIAL ANNOUNCEMENT*****************************
So I lied.Having said I wouldn't witter on about Toulon, 1793 anymore (see below), We now have a Special Announcement.
Peter Bennet has kindly produced both a Cyberboard Gamebox and a  Vassal Mod for the game. And Legion have agreed to them being:
made available in advance of publication!
Both files are available now.
Legion give their permission for you to download them an have a look*.
The game will commence shipping in the next couple of weeks so get your order in soon to take advantage of the special pre-order price.
And UK/EU customers remember there is a VAT busting deal (as per the CoA deal - see below).
* Ownership of the game is still a requirement before these files are used for play - this isn't a freebie; just a chance to have a look.

***********************************************************************************************
Can you believe it? Another year drawing to a close! I'll do a year in review next month so, for now, lets just say it has been another great year for LYG and we really appreciate the support everyone has given us.
You can't have failed to notice that I've been banging on for most of the year about LYG's forthcoming, first ever, game design Toulon, 1793. I'll now stop (well, after saying the following). The game will be published this month so, to secure your pre-order discount price, you'll need to be quick - and those in the UK/EU be sure to check out Legion Wargames' postage deal (along the same lines as that described for Clash of Arms below).
Contributions this month are modest but I'm delighted to see us with files for all three of our supported platformas.
We ran a competition last month to see if you could spot the extreme renovation of Waterloo's Hougoumont evidenced in this photograph?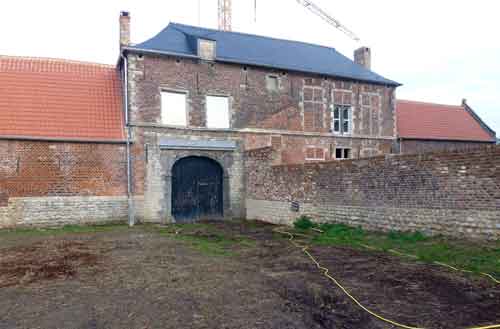 To say that the response was underwheming is an over-statement. We didn't get a single entry. So...
... we're not going to give you the answer 

Beating the UK/EU Pre-Order Blues
Clash of Arms are now shipping Legion of Honor at $65 + shipping and they are offering a VAT busting deal.

The VAT busting deal that Clash are offering ( to the UK  and EU) is that, for a relatively small additional shipping surcharge, they will pay both the VAT and the handling fee for the games.
They are able to offer this service as a result of an arrangement they have with Limey Yank Games. This service is available to all LYG sponsors so, if you want to support your favourite company's pre-order programme but find it just too expensive, lobby the company to take advantage of the service if they are already and LYG sponsor - or suggest they consider becoming a sponsor if not so already.
This way we can hopefully revitalise the UK/EU pre-ordering of US games. Show your support for the idea by getting that order in
.
Thank You!
Thanks to each of you that have made a donation to help support the site. Natasha and I are grateful and humbled. Every donation - and I genuinely mean every donation, no matter how large or small - makes us realise that our efforts are genuinely appreciated. The fact that you're under no obligation to contribute makes it even more rewarding when you do.
My thanks as always to our visitors, sponsors, contributors and now donors too
 Limey